Obamacare Update:
Obamacare debuted on October 1, 2013. It is an unmitigated disaster! Five million people have lost their health care policies, the policies Obama promised 30 times between 2010 and 2013 they would be able to keep. Small business owners are the next to begin shedding insurance policies and workers beginning in 2014.
If you think the country is angry with Obama now, just wait. You ain't seen nothing yet!
This post was originally written just after Obama's reelection in November 2012, accurately predicting the consequences of the Obamacare law on the country.
File this under elections have consequences. We already know how the market responded to Obama's reelection, it tanked over 300 points. 
Or maybe this should be filed under Obama's win is your job loss. Hope all the hope and change-y  stuff felt good. I just wonder if it will feel as good without a job.
It's time for the workers of American to grow up and understand, not every CEO is a fat cat like Steve Wynn or Donald Trump.
Most small business owners pay their employees first, worry about how they will be able to make the next payroll and feed their families.
Now take a look at what happened in Las Vegas.
LAS VEGAS (CBS Las Vegas) — A Las Vegas business owner with 114 employees fired 22 workers today, apparently as a direct result of President Obama's re-election.

"David" (he asked to remain anonymous for obvious reasons) told Host Kevin Wall on 100.5 KXNT that "elections have consequences" and that "at the end of the day, I need to survive."

"I've done my share of educating my employees. I never tell them which way to vote. I believe in the free system we have, I believe in the right to choose who they want to be president, but I did explain as a business owner that I have always put my employees first. I always made sure that when I went without a paycheck that [I] made sure they were paid. And I explained that I always put them first and unfortunately I'm at a point where I'm being forced to have to worry about me and my family now and a business that I built from just me to 114 employees.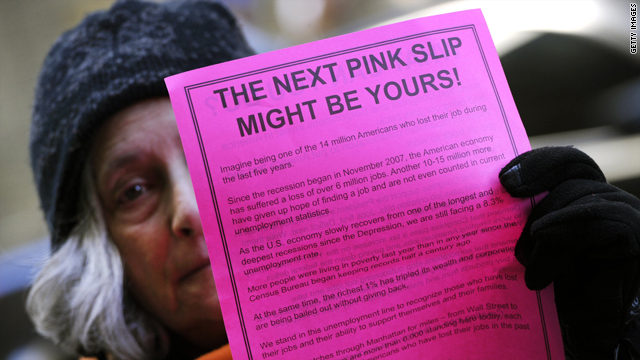 And

here's

another story. Look for more coming in the next couple of months, because here's the simple truth.
If you work for a small or medium size business and the business owner has to choose between keeping you employed or keeping bread on the table for his own family, there is no choice; you lose.